Waterslide Decal papier
Met dit decal papier kunt u zelf uw decals printen.
Het is bedoeld voor decoratie materiaal en niet voor producten die veelvoudige gebruikt en nat worden gemaakt.
Mocht u dit echter wel willen dan is de nodige afwerking met blanke lak, of giet epoxy (envirotex) nodig, of zoals gebleken is spuitlak van de action of gamma werkt ook perfect.
Het papier kan gebruikt worden op vrijwel alle ondergronden, zolang deze maar glad zijn.
Denk hierbij aan: afgelakt/geverfd hout, kaarsen, glas, kunststof, keramiek, polyester, metaal.
Enkele voorbeelden waar het decal papier veelvoudig word toegepast is bij het maken/decoreren van:
Kunstaas(hengelsport), modelbouw, nail-art, kaarten, kaarsen, glazen of bekers als decoratie object en nog veel meer.
Even in het kort hoe u te werk gaat:
-U print een afbeelding naar wens op het decal papier (laat dit gedurende 1 - 3 dagen drogen)
-(Optioneel) lakt u deze af met acryl/waterbasis blanke lak (action of gamma)
-Dan knipt of snijd u de afbeelding uit
-Hierna legt u deze in warm water
-Dan lost u de afbeelding van de drager of schuift deze direct over op het voorwerp ( ligt aan het formaat decal)
-Even na wrijven met een doekje en laten drogen. (wel voorzichtig anders kan uw decal nog scheuren of kapot gaan)
Uw decal is nu klaar het voorwerp kan desgewenst voor extra bescherming nog extra met een laagje blanke lak worden voorzien, of u kunt de randjes beetje aanzetten met waterbasis nagellak (proef op reactie benodigd)
Ook kunt u bij gebruik op keramiek het voorwerp afbakken in de oven voor krasbestendigheid. daarvoor dient u het af te bakken in de oven tussen de 100-110 graden, of laat het natuurlijk drogen dit duurt 1 - 3 dagen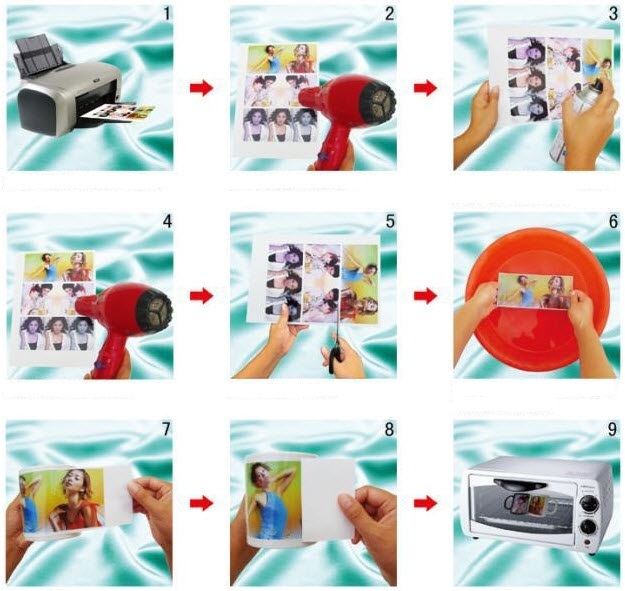 Decal transfer transparant voor de Inktjet printer A4

Met dit decal papier kunt u zelf uw decals printen.
Het is bedoeld voor decoratie materiaal en niet voor producten die veelvoudige gebruikt en nat worden gemaakt.
Mocht u dit echter wel willen dan is de nodige afwerking met blanke…

€ 2,00

Decal transfer transparant voor de laser printer A4

Met dit decal papier kunt u zelf uw decals printen.
Het is bedoeld voor decoratie materiaal en niet voor producten die veelvoudige gebruikt en nat worden gemaakt.
Mocht u dit echter wel willen dan is de nodige afwerking met blanke…

€ 3,20