Retourneren, ruilen of annuleren
Retourneren, ruilen of annuleren? Geen probleem!
Bij Anreda kunt u een artikel binnen 14 dagen na aflevering ruilen of retourneren.
De bedenktijd (of zichttermijn) gaat in op het moment dat u de bestelling heeft ontvangen. Binnen deze termijn mag u het artikel bekijken, tenzij anders vermeld. Na het verstrijken van de bedenktijd is de koopovereenkomst een feit.
De kosten voor retourzendingen komen voor uw eigen rekening. De te retourneren artikelen dienen in originele staat te zijn; dit wil zeggen onbeschadigd, ongebruikt en in niet beschreven en originele fabrieksverpakking zonder tape, plakband of (verzend)stickers. De artikelen zijn compleet, niet gebruikt en onbeschadigd.
Controleer altijd direct na ontvangst van het artikel of het onbeschadigd en compleet bij u geleverd is. Mocht dit niet zo zijn, neem dan zo spoedig mogelijk contact op om dit aan ons te melden.
Geopende artikelen die niet voldoen aan de bovenstaande regels blijven uw eigendom. Deze artikelen worden naar u teruggestuurd en de gemaakte kosten worden aan u in rekening gebracht.
Sommige artikelen mogen niet retour worden gestuurd.
Dit geldt onder andere voor artikelen:
Die persoonlijk van aard zijn
Die tot stand zijn gekomen overeenkomstig de door u aangegeven specificaties
Die speciaal voor u besteld zijn
Die door hun aard niet kunnen worden teruggezonden
Die snel bederven of verouderen
Waarvan de prijs afhankelijk is van schommelingen op de financiële markt waarop wij geen invloed hebben
Voor tijdschriften
​Voor audio- en video-opnamen en software waarvan u de verzegeling hebt verbroken
Voeg altijd het Herroepingsformulier bij uw retourzending, inclusief opgave van de retourreden.
Bij ontvangst van uw bestelling zijn de goederen uw eigendom geworden. Zorg daarom dat u altijd over het verzendbewijs van de transporteur beschikt als u artikelen retour stuurt. Zo kunt u eventueel verlies of schade bij uw transporteur claimen.
Bij het verzenden van artikelen naar Anreda dienen de artikelen in een
degelijke verpakking geretourneerd te worden.
Zodra het artikel in goede staat door ons ontvangen is, sturen wij u daarover een bericht en storten wij het aankoopbedrag (exclusief de gemaakte verzendkosten voor het verzenden naar u (bij artikelen die gratis aan u verzonden zijn, zullen dit de werkelijk gemaakte kosten incl. BTW zijn)) terug op uw bankrekening.
Onvoldoende gefrankeerde pakketten of ondeugelijke verpakkingen worden door Anreda geweigerd.
Wilt u een herroeping melden of heeft u hier vragen over, dan kunt u contact opnemen via info@anreda.nl
Het herroepingsrecht houdt in dat u het recht hebt binnen 14 dagen na ontvangst van de bestelling de koopovereenkomst te ontbinden.
U kunt hieronder het herroepingsformulier downloaden.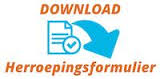 Retouradres
Driehuizerweg 2, 5375 KN Reek (Klik hier voor openingstijden)